Services/Business
Services

Public domain
Public Domain
​
Via the Public Domain and Port Protection, the Port Authority manages the Port area for public or private usages, by granting authorisations or concessions that enable the occupation and operation of activities that are envisaged within the framework of the usages and activities established according to the regulations.
In addition, we manage authorisations for the provision of commercial services within the Port area.
​
Occupation of the public domain
The occupation of the Port's public domain, in accordance with the provisions set forth in Section 2 of Chapter 3 of Title V of the revised text of the Law governing State and Merchant Navy Ports, can be processed by means of an authorisation or concession
​​ Occupation by means of an AUTHORISATION may not exceed a period of 3 years, including extensions, with removable furnishings or installations.
Occupation by means of a CONCESSION may be for a period of more than 3 years up to a maximum of 50 years, with non-removable constructions or installations.
Port areas and infrastructures
The Port Authority is responsible for providing and managing port areas and basic infrastructure, promoting economic activity in the Port.
Management of the Port's infrastructure and public domain will be carried out by applying the criteria of cost-effectiveness and efficiency.
You can find a list of occupied places in the Port of Tarragona by visiting the application published in this section.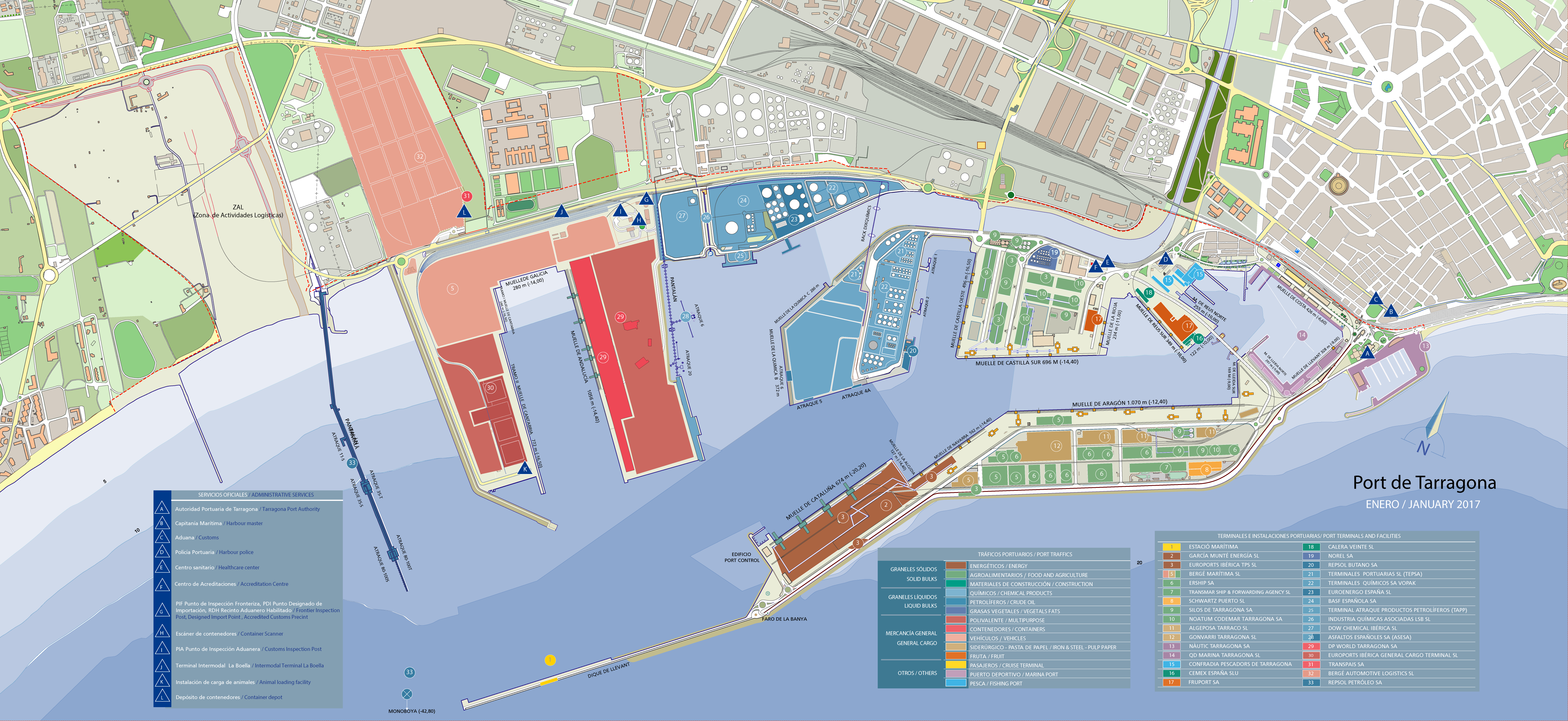 ​
Regulations
Instruction 1/2016 on the output of community materials, products and goods from the Port of Tarragona, when this output is not covered by other specific customs documentation.
Recipients
The Tarragona Port Authority, to be known and disseminated among the members of the Port community
Tax Protection in the Port of Tarragona
Customs Agents Association
Forwarding agents and carriers associations
Shipping agents association
Download
Requests to the customs authority not covered by the other procedures
REGISTER
Interested parties must submit the required documents to the registry of the offices of the Port Authority in order to initiate the appropriate procedure. Opening hours for registering documents in the TPA are from 9:00 am to 2:00 pm.


CONTINUE BROWSING - ASSOCIATED INFORMATION
PORT SERVICES
The Port services are the provision activities needed for the operation of the Port unrelated to operations associated with maritime traffic.
REQUESTING SERVICES
Access the tools for formally requesting or communicating the services required for the vessel, the goods or the passage during your stay in the Port.
COMMERCIAL SERVICES
You can access the schedules of conditions and application forms for carrying out these activities.
PUBLIC DOMAIN
Access the section describing and detailing the activities related to the Port's public domain.
TARIFFS AND CHARGES
Access the documents and regulations related to the settlements, charging and payment of the Port activities and procedures.
PORT COMMUNITY
Access the duly classified directory of companies that are providing Port services and other organisations related to various Port activities.