Port Tarragona and Puerta Centro-Ciudad del Transporte have consolidated the agreement that will allow the Catalan infrastructure to expand to the centre of the Iberian Peninsula and establish itself in what will be the most important logistics and service platform in Spain, with the capacity to channel the main flows of national, European and international goods between rail and road to the maritime ports and the centre of the country.
The main aim of Port Tarragona is to develop a multipurpose intermodal terminal in this strategic location between Guadalajara and Marchamalo (Castilla-La Mancha), 70 km from Madrid and connected to the main road and rail communication routes in the country.
The future intermodal terminal, which will be called the Puerto Centro Intermodal Terminal, will cover some 150,000 m2. This new infrastructure will be complemented by the La Boella Intermodal Terminal in Tarragona, and will promote the growth of intermodal rail-road and maritime traffic.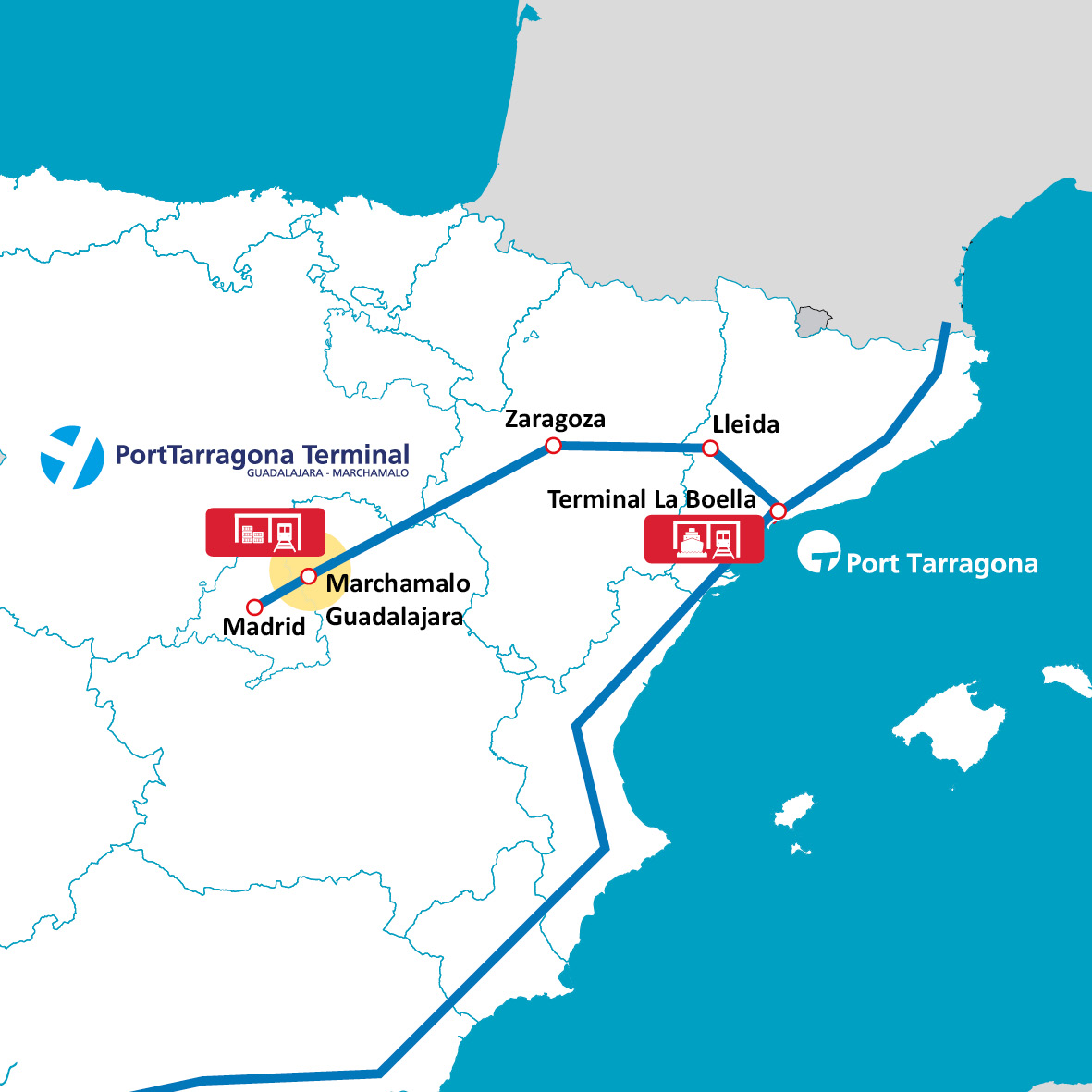 A Strategic Location in the Centre of the Peninsula

The Puerto Centro Intermodal Terminal will be located in the Henares corridor, the most dynamic area in the environs of Madrid, which boasts over 6 million inhabitants in a 60 km radius, and which is a TEN-TCore Network node.
Thanks to its connectivity with the main ports of the Cantabrian coast (Bilbao, Santander) and the Mediterranean coast (Tarragona, Barcelona) and its location in an industrial environment, Puerto Centro will provide high capacity in terms of load volumes, fostering the development of intermodal transport of goods by rail.
With respect to road communications, the future terminal will be connected to main transport routes (R-2, CM-101, and A-2, European Route I-90) and the rail network on the Madrid-Tarragona / Barcelona-French border line.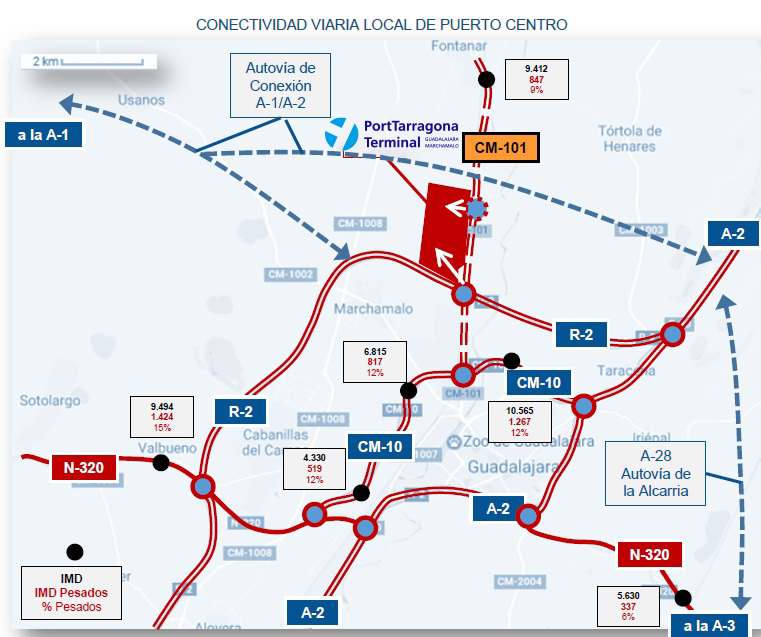 In terms of rail connections, the Ciudad de Transporte is connected to ADIF Line 200, which is a conventional gauge track and is connected to the Mediterranean Corridor rail network.
It is also outside the suburban railway network of Madrid, which will avoid it being limited by capacity constraints caused by metropolitan passenger traffic. This will mean notable savings in time and cost in terms of transport services and greater efficiency with respect to the infrastructures used for goods transport.
All of the above will allow goods stored in Puerto Centro to reach anywhere in the world through Port Tarragona and vice versa.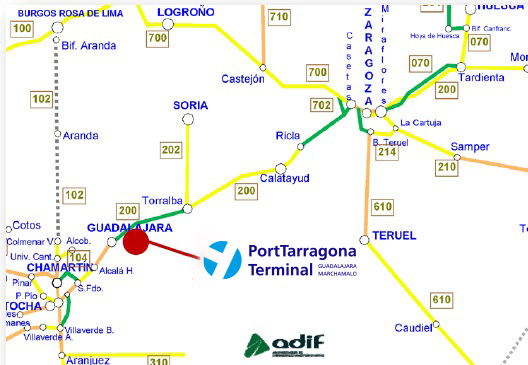 Anticipated investment and deadlines

The project development forecast spans two phases.
First Phase (10,450 m2)
The construction of all rail facilities
The execution of the first phase of the container storage yard.
Second phase (4,800 m2)
The execution of the second phase of the container storage yard.
The construction of pre-fabricated buildings (technical building, services building and warehouse for load consolidation and deconsolidation).
The construction of the road area, roundabout and lorry parking area.
Total investment: € 20M