Posted in Port & City - Ludic Spaces
EL SERRALLO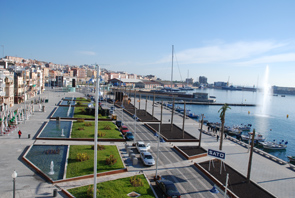 Fishermen in Serrallo have always lived by the sea, anxious about the weather, the sea conditions and their boats, which many years ago would have been beached before benefiting from the protection of the dock.
In the late 18th century, fishermen used to live in wooden huts, also called "sea shops", close to the beach where their fishing boats were located. When the Port Works Committee planned the construction of Marina neighborhood, those fishermen by the sea had to move next to the quarantine kennel and the remains of the Francolí stronghold. During the nineteenth century, this area came to be called Serrallo, a popular toponym whose origin remains unknown and which currently distinguishes and characterizes this typical seaside neighborhood in Tarragona.
Serrallo has undergone a logical development over time in tandem and in fitting with the port facilities nearby. The institutions in charge of the port's management –formerly the Tarragona Port Works Committee and now the Tarragona Port Authority– have always taken them into consideration. Testimony to this is the latest town-planning initiative that has been carried out: the construction of the seaside promenade, though this has not been the only development. An underground car park has been built, the fish market has been adapted and heavy traffic has been redirected over a moveable bridge built for this specific purpose.
All these actions have helped to shape Serrallo neighborhood into the remarkable reality it bears today, where the foremost fishing fleet in Catalonia docks and operates and where a substantial number of Tarragona's citizens live.