Posted in Port Community - CEMAPT

The Centre for Maritime Studies and Activities of the Port of Tarragona has contributed in a decisive way to the projection of the image of the Port, allowing the development of the Costa Dock as the port's area for excellence, designed for sociocultural civic activities.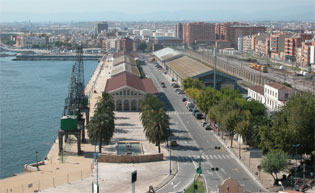 1982 represented an important change in relations between the port and the towns, with the opening of unused area to commercial trade. From that moment, these areas were made available to the population to conduct cultural, sporting and leisure activities.

In the Port of Tarragona, after the necessary building works were carried out, this change took place, the culmination of which came in June 1986 with the opening of the Costa Dock.
Amongst the most important achievements must be counted the creation of the Workshop School of maritime Arts and Crafts of Tarragona, which functioned between 1992 and 1995. This formed the nucleus of the current Museum of the Port, that has a section where historic vessels are restored and themed exhibitions are prepared in which the restored museum pieces can be incorporated.
CEMAPT is in charge of managing the Costa Dock's exhibitions, that take place in the many warehouses and stores of the Dock, as well as the leisure and cultural activities that take place outside.

Also, CEMAPT manages the Central Archive of the Port, the Museum of the Port and the Publication service.
PORT ARCHIVE
Anselm Clavé, 2
43004 Tarragona
Telèfon: 977 243 934 / 977 250 091
Fax: 977 221 640
This e-mail address is being protected from spambots. You need JavaScript enabled to view it

PORT MUSEUM
Refugi 2, Moll de Costa
43004 TARRAGONA
Tel. 977 259 442.
Fax 977 259 446
This e-mail address is being protected from spambots. You need JavaScript enabled to view it

PUBLICATIONS SERVICE
Anselm Clavé, 2
43004 Tarragona
Telèfon: 977 243 934 / 977 250 091
Fax: 977 221 640
This e-mail address is being protected from spambots. You need JavaScript enabled to view it